Courses | Calendar | Instructors | Course Registration | Private Training | Coaching
Recommended prerequisites: Participants should have practical, technical experience in design, operation, or maintenance of complex systems.
MOC is the element for which all other "foundation" elements of PSM are implemented. It is the PSM element that controls introduction of new risk. Recognizing change, analyzing the risk of each change, and handling small changes efficiently are just some of the barriers that managers face with MOC implementation. This 2-day course explores proven strategies for implementing a workable MOC system and customized approaches to fit your company's culture. It also shows how to implement physical and instrumentation changes through the proper use of pre-startup safety review (PSSR) systems, sometimes called operational readiness reviews (ORRs). Written examples of programs for addressing simple and complex changes are included in the course notebook.
Typical Course Candidates
Technical Managers and Supervisors
HSE professionals
Quality control managers and staff
Engineers
PSM coordinators
Most other operation, maintenance, reliability, and quality staff who are involved with designing, implementing, tracking, and evaluating MOC programs
What You Will Learn
Requirements of a complete MOC System
What PSSR is and how it works and how it can be combined with MOC and mechanical integrity systems
How to realistically control both small and large changes, minimizing employees' needs to bypass the system
Simple frameworks for identifying and analyzing risks associated with a recommended change to help ensure the minimum losses to your company (this is the heart of any MOC system)
Training needs and requirements for all levels of your organization necessary to make managing change a functional system.
How to integrate all company systems for managing specific functional changes into one MOC system to handle PSM, HSE, quality control, reliability, and productivity changes; and learn why this integration is so important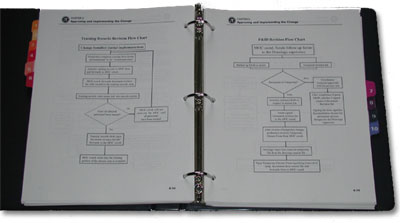 Take Home:
Training tools for teaching your employees to recognize the difference between a replacement-in-kind and a change (take home copies included)
Copies of real MOC and PSSR written programs, forms, and checklists of risk review & PSSR questions
Electronic (PDF) copy of course notebook
A Certificate of Completion
1.3 CEUs or 1.3 COCs
Course Outline
Day 1 (8:00 a.m. to 5:00 p.m.)
Introduction

Learning objectives and overview of PSM
Overview of PSM
Overview of MOC and PSSR
Workshop: Identifying which MOC failures led to a catastrophe

Recognizing or proposing changes

Review of basic definitions of replacement-in-kind (RIK) and not-replacement-in-kind (NRIK)
Workshop: RIK vs NRIK Quiz
Workshop: Developing RIK and NRIK examples for your company

Initiating the change request

Who does what?
Initiating the change request form
Example of change request forms

Reviewing the proposed change

Technical reviews and Risk reviews
Workshop: Choosing the appropriate risk review method for a minor mechanical change
Workshop: Performing a risk review of a minor mechanical change
Day 2 (8:00 a.m. to 3:30 p.m.)
Reviewing the proposed change (continued)

Workshop: Performing a risk review of a minor procedure change

Approving and implementing the change

Roles, responsibilities, and authorities
Tracking the change request through closure

Pre-Startup Safety Reviews

Definitions and Style of PSSRs
Combining PSSR with other PSM or Reliability systems
Workshop: PSSR Quiz
Workshop: Performing a PSSR for a minor mechanical change

Overall Roles and Responsibilities
Managing the MOC/PSSR program(s)

MOC/PSSR scope decisions
Review of typical MOC Program in notebook
Review of typical PSSR Program in notebook

Key Performance Indicators
Workshop: Implementation planning
Optional Exam
More Information
Instructor(s):

Bill Bridges is a primary instructor for this course. He has taught this course many times over the past 3 years. To find our more about this course or to check into having this course taught at your site; contact Mr. Bridges at 1.865.675.3458 or by e-mail at wbridges@p-i-i-i.com.
Revonda Tew is a primary instructor for this course. She has many years of PSM implementation experience, MOC implementation experience, and training experience. Feel free to contact Mrs. Tew at rtew@p-i-i-i.com.
Schedule:
>> See the Calendar of Publicly Offered Training.
This course can also be taught (either as-is or customized) at your site. Please contact PII for details about having our training provided at your site.
Pricing for Public Offerings (per student):
$795.00 USD
Registration Information: